Still tanned from their Seychelles honeymoon, the Duke and Duchess of Cambridge helped welcome Barack Obama to Buckingham Palace. Kates first official duty as a Royal also gave a glimpse of her new role as a style icon: Her £175 dress from High Street chain "Reiss" became an instant hit – within minutes the massive demand crashed the stores servers for more than two hours. The dress sold out immediately and is now traded on ebay for more than double the price.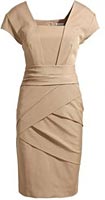 Even hours after the event, the Stores website hasnt recovered. Disappointed wannabe shoppers took their frustration to the stores facebook wall. Reiss could only offer similar alternatives to the the beige coloured "Shola" dress, and will not reissue it in the future in any Store or online.
read more at the original Source "The Mirror".