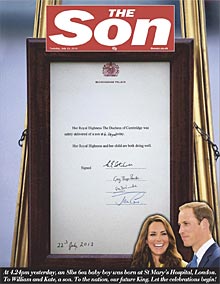 Prince William, the Duke of Cambridge, says he and his wife "could not be happier" after the duchess gave birth to a baby boy, at 16:30 UK time at St Mary's Hospital, west London.
William was present at St Mary's for the birth. The young parents spent time with their son before telling the news to their families and the world.
The Queen's gynaecologist Marcus Setchell, who led the team that delivered the baby, described the new arrival as "wonderful baby, beautiful baby". A bulletin signed by him was taken by a royal aide from St Mary's to the palace under police escort. The news has been since displayed on an easel in the forecourt of Buckingham Palace in line with tradition.
A Palace spokesman said the names of the baby would be announced in due course. A Buckingham Palace spokesman said: "The Queen and Duke of Edinburgh are delighted at the news."
British Prime Minister David Cameron commented and congratulated the royal couple:
"I'm sure that right across the country and indeed right across the commonwealth people will be celebrating and wishing the royal couple well. It's been a remarkable few years for our royal family, a royal wedding that captured people's hearts, that extraordinary, magnificent jubilee, and now this royal birth."
Watch the proud parents leaving St Mary's Hospital with the UKs heir to the throne in the video below.