Last night, ten days after their wedding, and right after Prince William finished a 24-hour shift as an RAF search and rescue pilot, the royal couple left their Welsh farmhouse for an unknown destination – Rumor has it that even Kate didn't know where they were going.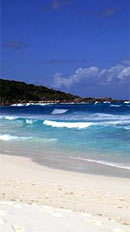 Most newspapers are sure that they will spend their honeymoon on the Seychelles, a stylish Indian Ocean location. Other possible honeymoon destinations that the media speculates on include Africa, Jordan, the Caribbean and Australia.
Prince William has taken two weeks leave from his Army job, but Clarence House did not officially say when the couple will return: "We are not confirming, and we are not commenting, on speculation on where they may be going on their private honeymoon, we are just confirming that they have gone. The couple have asked that their privacy be respected during their honeymoon."
And thats all we know at this point.